Yu-Gi-Oh! 3D Bonds Beyond Time
, known in Japan as
Yu-Gi-Oh! The Movie: Super Fusion! Bonds That Transcend Time
is a 3D film, starring the three protagonists of
Yu-Gi-Oh!
,
Yu-Gi-Oh! GX
and
Yu-Gi-Oh! 5D's
: Yugi Muto, Jaden Yuki and Yusei Fudo. The movie was produced in celebration of the tenth anniversary of the series.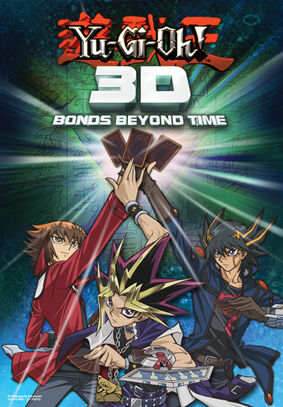 Summary
Apocalyptic future
In the future, the human civilization had been destroyed. Paradox travels back in past to prevent his future by eliminating the source of that destruction; Duel Monsters and its creator, Maximillion Pegasus.
Yu-Gi-Oh! 5D's present
Yusei Fudo had a nightmare about the Zero Reverse incident that his father created. With Yusei upset, Jack Atlas and Crow Hogan decided to have a Turbo Duel to cheer Yusei up. After driving down the highway, Paradox, who traveled back in Yusei's time, challenges Yusei to a Turbo Duel. After a few turns, Yusei tunes "Junk Synchron" with "Junk Warrior" and Synchro Summons "Stardust Dragon", but Paradox reveals a blank card, and launches a beam at "Stardust Dragon", absorbing it and creating a blackened corrupt card of it into the blank card. Yusei confronts Paradox, who shows him the corrupt card, before vanishing through time again. Yusei, Jack and Crow halt their Duel Runners and look in bewilderment at the original "Stardust Dragon" card, whose illustration has just been blanked.
Yusei, Jack and Crow then started questioning about Paradox's identity at their garage, when Akiza Izinski, Leo, and Luna arrived, and showed the archives they found about the past. They found an old article about "Maximillion Pegasus" and "Yugi Muto", with Yusei recognizing Yugi as a legendary duelist. They also discovered a record of "Stardust Dragon" assualting various duelists in Europe. Knowing that "Stardust Dragon" could not have existed in that era, Yusei zooms in on the article's picture to discover Paradox standing in the background of the dragons. Outside, New Domino City begins to crumble and collapse. Witnessing the destruction, Jack Atlas realized that "Stardust Dragon's" existence in the past is now changing the future, which is their era.
With the support of the other Signers, their marks begin to glow as the complete Crimson Dragon appears on Yusei's back followed by Yusei's Duel Runner glowing as well. Yusei feels himself being called by the Crimson Dragon and beckons Yusei to board his runner. With its help, a time slip is opened and Yusei begins his chase after Paradox.
Yu-Gi-Oh! GX present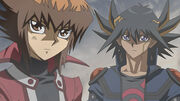 In Venice, Paradox finds Jaden Yuki, who still has the powers of Yubel and The Supreme King. Paradox attacks him with "Cyber End Dragon" and "Rainbow Dragon". Jaden manages to resist by Summoning "Elemental HERO Neos" to protect him. In response, Paradox Summons "Stardust Dragon", a monster from the future, and proceeds to overwhelm Jaden (This scene is how the movie opens before changing to Yusei's nightmare of Zero Reverse). Stardust Dragon's first attack almost destroys Neos and sends the two skidding backwards into a wall.
As Paradox commands Stardust Dragon to attack Jaden again, Yusei appears with the Crimson Dragon, who takes the blows for Jaden. Paradox disappears once again.
Soon, Yusei and Jaden began to chat on a roof. Seeing Yusei's Duel Runner, Jaden gets excited seeing such a technology, asking Yusei if that was the Duel Disk of the future. He then explained that he came here because he heard that there were cards missing from duelists. Yusei explains to Jaden that Paradox is trying to change the past, and that his target was Maximillion Pegasus. Jaden then used his laptop to find out an article about the event that Paradox performed that would create a major historical event. (In the English version, Jaden did not believe Yusei, which is why he opened his laptop and discovered that truth.) Jaden then checks his card, as his "Elemental HERO Neos" card turns into a blank card. As the country began to collapse, Yusei tells Jaden that they must hurry to save the world.
Riding Yusei's Duel Runner, the Crimson Dragon then took both of them even further back in time.
Yu-Gi-Oh! present
Meanwhile, in Yugi's timeline, Maximillion Pegasus is currently holding a tournament. The Sakiyomi Jan Bang! made a cameo as the MC of the event. Yugi and his grandfather, Solomon Muto, noticed "Stardust Dragon", "Cyber End Dragon", and "Rainbow Dragon" in the sky. Paradox then attacks the crowd with "Cyber End Dragon" and "Stardust Dragon", killing almost everyone, including Pegasus and Yugi's grandfather.
Amongst the ruins, Yugi is the only survivor against Paradox's attack. He stands up and searches for other survivors. He finds a bandanna belonging to his grandfather, and cries over his death.
At that moment, a crack in the space appears, and the Crimson Dragon suddenly "swallowed" Yugi. Then, Yugi is thrown back in time at the same place half an hour earlier. Yusei and Jaden find Yugi and explain to him what they know about Paradox to him. Yugi agrees to fight with them against Paradox to free the trapped monsters and save the world.
At the event, Jaden Summons Yubel and starts to scare the audience, so they would flee. By doing so, Yugi hopes the future is safe as Jaden regains his "Elemental HERO Neos" card. However, Paradox arrives regardless to the shock of the heroes, as Yugi asks Paradox what kind of person he is, to which Paradox replies that he is from the future which was destroyed by Duel Monsters. He intends to destroy the game of Duel Monsters to prevent that future happening. Jaden tries to tell Paradox that by changing time and trying to destroy Duel Monsters, he will also erase people from the timeline as well, but Paradox does not care, vowing to do whatever he can to save his time. Yusei, Yugi, and Jaden challenge Paradox to a 3 on 1 Duel, with a time limit of 20 minutes, before Pegasus arrives at the event, and the other dimensions crumble to pieces. Yami then asks Yugi to allow him to Duel in his place, as Paradox accepts this challenge and the Duel begins.